Palenquivir is located in an area with strategic connections
In the

South

of the Iberian Peninsula.

In the

Hinterland on the route between the Strait of Gibraltar and the North of Africa.

.

Close to large population centres: In the

area surrounding Seville

(+ 1 m inhabitants)

At the intersection between

Europe's Mediterranean and Atlantic corridors
Palenquivir has a prime location, both geographically and economically, as it is close to the major production and consumption centres. It is well connected, with high-capacity road infrastructure.
It is a logistics hub for all those industries, services and logistics platforms in need of good land transport links.
Excellents
transport links
Perfects distances for the distribution of goods, both locally and regionally. There is also a link with the main maritime and railway infrastructures for trading and receiving supplies on a national and international level.
In the

south access route of the metropolitan area of Seville,

towards the bays of Cádiz and Algeciras.
At the foot

of the junction soon to be completed by the Spanish Ministry of Transport, finishing the link between the

Seville–Cádiz motorway (AP-4) and the national N-IV road

, that is currently split up to Los Palacios y Villafranca.
Close

to major transport links such as the

SE-40.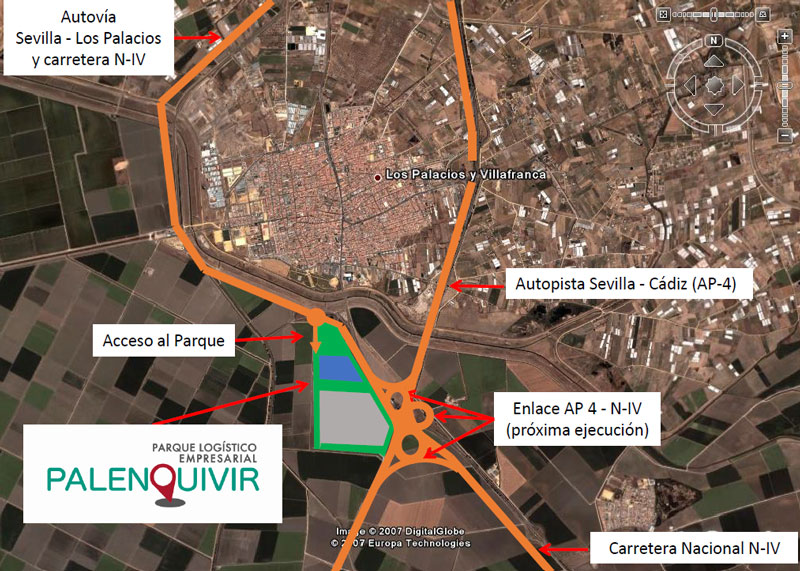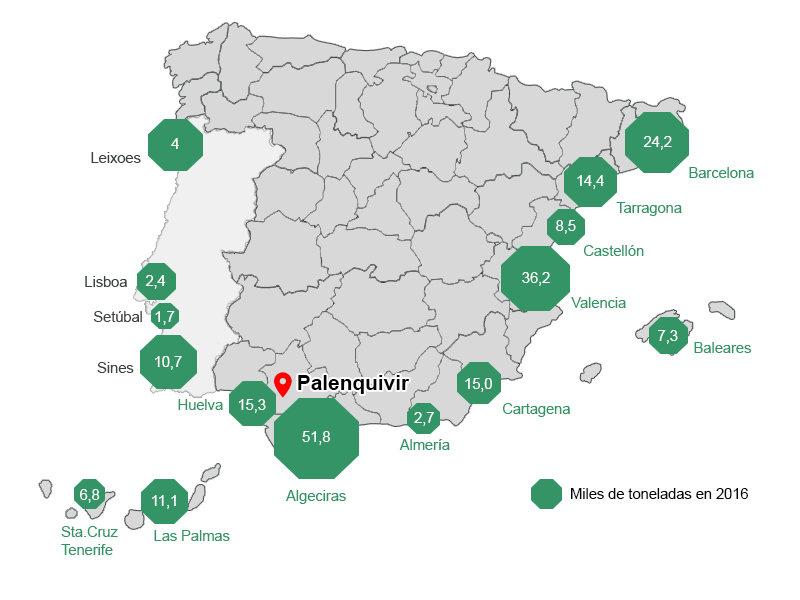 Close to the main ports, enabling links with the most important international sea routes.
Port of Algeciras (90 mins // 160 km)
Largest port in Spain and the 3rd largest in the Mediterranean. Globally, it is the 9th largest.

In 2020, the annual cargo traffic was 107 million tons (+5 million tons of containers). 

Installations for roll-on/roll-off (RORO) shipping services and fuel handling.
Port of Seville: (30min // 34km)
Logistics gateway between the south of Spain and the Canary Islands. 

Daily rail connection with the Port of Sines, the largest Portuguese port. 
Port of Cádiz: (1h // 93km)
Port of Tánger Med (via Ferry Algeciras)
La Negrilla loading station – Seville (27 mins // 33 km), primary intermodal centre for the region of Andalusia and Spain that enables links with the following lines:
High-speed rail (Seville – Madrid)

Iberian-gauge rail (Cádiz, Algeciras, Huelva, Badajoz, etc.)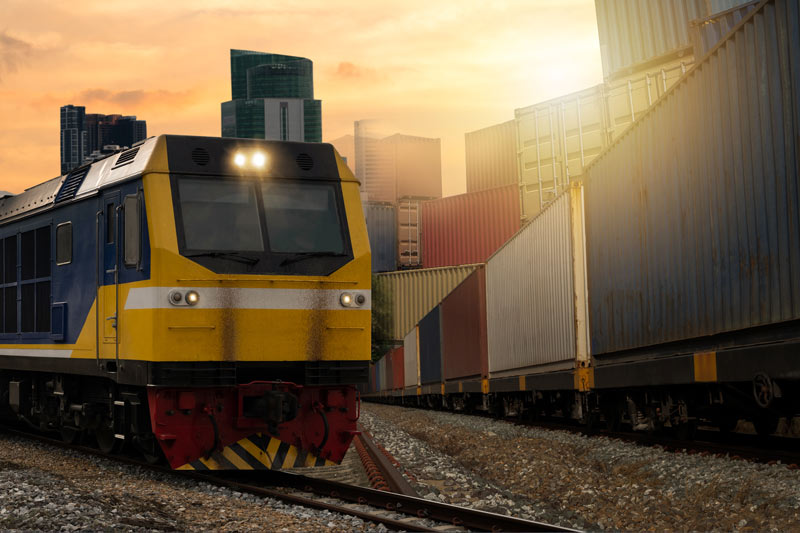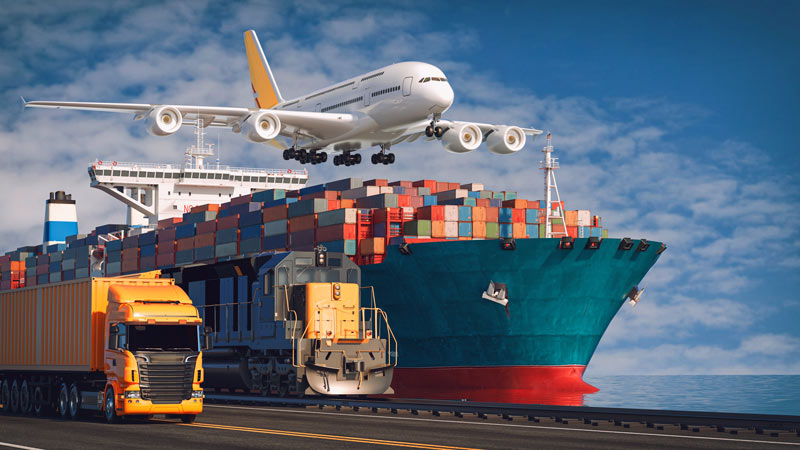 San Pablo – Seville

(

30 minutos// 40km)
Among the top ten (#7) Spanish airports in terms of cargo transport.
Jerez de la Frontera

: (40 min // 55km)
It is growing in terms of cargo transport, offering great facilities.